UPCOMING EVENTS
Whats Happening at Rievlei Zoo Farm:
The Carwash - Winter Special
15 June to 15 July 2018

Full Valet
Sedan - R550
SUV/Mini Bus/Double Cab - R600
For more information contact us on 072 318 3495
RSS Holiday Campos
Mon 9 - Fri 13 July 2018

Rietvlei Soccer School Campo is a fun-filled holiday programme, where each child can enhance their skills, make new friends and simply enjoy the holiday break.
Boys and girls ages 6 to 12 years welcome
Registration from 7am - 8am
Campo Kickoff from 8am to 12noon
Cost is R500 for all 5 days or R120 per day
Campo includes: Soccer fun, nature walks, edu-talks, mini zipline, pony rides, tractor rides, garden games and quiz games.
Contact Head Coach - Lyle Bennet 061 486 2299 lyle@rietvleisoccer.co.za
DecaRun –Free 5km and 10km trail events
Sunday 22 July 2018
Sunday 23 September 2018
Sunday 28 October 2018

Race starts at 08h00am
Entrance: Free
Distances: 5km and 10km
Soccer Star Skills Clinic
Saturday 28 July 2018

Perfect Passing & Shooting
Time: 09h15 - 11h15 (Registration from 09h00)
Cost is R150 per person (R100 pp for RSS Players)
Boys and girls ages 5 to 12 years welcome!
Contact Head Coach - Lyle Bennet 061 486 2299 lyle@rietvleisoccer.co.za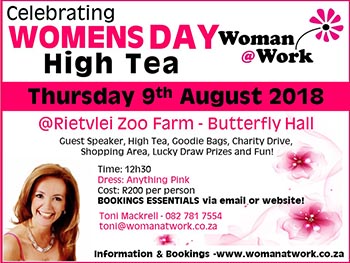 Woman@Work Womens Day for a High Tea Celebration
Thursday 9 August 2018

Time: 12h30
Venue: Butterfly Hall – Rietvlei Zoo Farm
Cost: R200pp includes High Tea, guest speaker, lucky draw, shopping and fun!
Dress: Anything Pink
Includes High Tea, guest speaker, shopping area and lucky draw prizes!
Book a display table to sell your goodies!
Book now: Toni Mackrell – toni@womanatwork.co.za or 082 781 7554
Click here to make an online BOOKING
Click here to download the BOOKING SHEET
Muddy Princess
Sunday 9 September 2018

Muddy Princess is a 5km obstacle mud run for women - and women only.
Our event is for women with all kinds of fitness levels as long as you can crawl, walk, run, climb, laugh and play - a great opportunity for a "girls dirty day out".
There is no competition and no timing - it's all about a lots of fun and laughter.
Enter now:
https://entries.muddyprincess.co.za/events/31302-muddy-princess-joburg-southgp
Cansa Shades of Pink Fun Run/Walk
Sunday 30 September 2018

5km or 10km Fun Run/Walk
Price: Adult - R120, Children under 12 - R60
For more info contact Yolandi Jacobs 083 937 7187 or
yjacobs@cansa.org.za
Rietvlei parkrun
Every Saturday at 8am
Join us every Saturday for a 5km walk or run.
It's at 8am, it's fun and it's free!
All ages welcome.
Dogs on leads also welcome.
Register on www.parkrun.co.za
Download your barcode – it's FREE!